The Sea Breeze Inn has been completely transformed! We are looking forward to hosting you in our newly built 16 room Boutique Hotel and are now accepting reservations. For the best rates, call us directly at 1-877-227-8400. Or click the link below to book online. Hope to see you soon! - Leeza & Telly
The Sea Breeze Inn
The Sea Breeze Inn is a family owned and operated boutique hotel located in Middletown Rhode Island. The hotel originally opened in 1995. In 2015 the hotel underwent a ground-up renovation, re-opening in 2017 and now includes 16 professionally designed rooms and suites overlooking the Atlantic Ocean and Easton's Pond.
The hotel is conveniently located in the Atlantic Beach neighborhood overlooking both Newport's Easton's Beach (First beach) and Easton's pond and is just minutes to downtown Newport, RI. Rooms boast private balconies with views of the beach and pond, each individually designed with unique features and accents. An on-site café provides complimentary made-to-order breakfast to all guests every morning which is included in the price of the stay.
"The rooms are big and comfortable and the breakfast is awesome. We especially like the balcony where we would sit in the evening, cooled by the ocean breeze. The owners go out of their way to make you feel at home, we will definitely come here again." - Linda, Texas
YiaYia's Cafe
Yia Yia's Café is our on-site restaurant where we serve breakfast and lunch every day from 8am to 6pm. The cafe is open to the public but if you are staying with us then a full, made-to-order breakfast is always included with your stay. Menu items include traditional breakfast and lunch options including pancakes, eggs, sanwiches and muffins. Yia Yia's also offers authentic Greek dishes and desserts.
The cafe is also available for private functions and events. Please contact us for more information.
"Overall we had a fabulous time, so much so, in fact, that we're planning on a return visit next year! You will not be sorry if you choose to stay at the Sea Breeze Inn. The value, amenities and service you'll receive can't be beat!" - Ernie & Liz, RI
Meet the Owners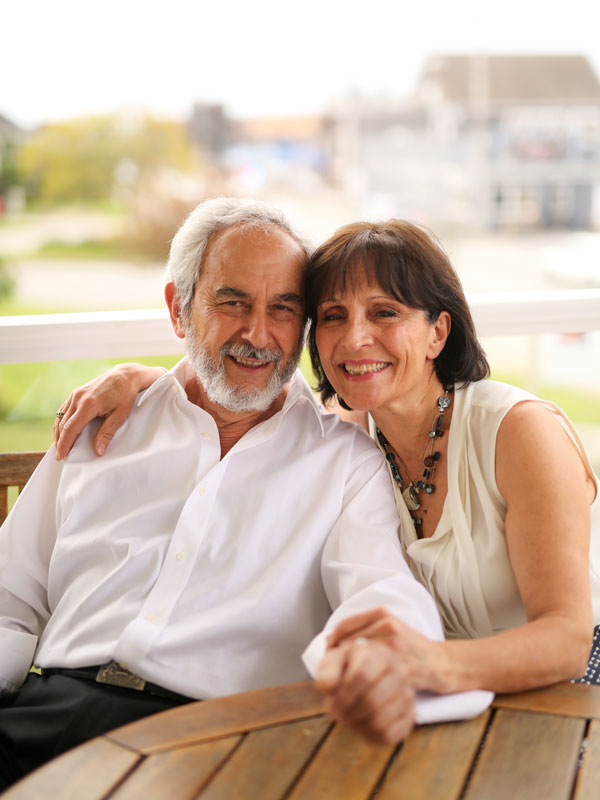 Telly and Leeza Amarant own and operate The Sea Breeze Inn. In 1991, shortly after moving to Newport County, they purchased an old, two-bedroom colonial and transformed it into what is now the Sea Breeze Inn. Over the years, Telly and Leeza have hosted guests from around the world, always welcoming them just as they would family, making the Inn a true "home away from home" for many. Twenty-five years later, Telly and Leeza have now completed their vision by expanding, remodeling, and re-designing The Sea Breeze Inn, all in an effort to continue to provide a comfortable place where guests from around the world can visit, relax and enjoy beautiful Newport, Rhode Island.
"We are thrilled to re-open and we hope our guests will be happy with what we've created. We will continue to operate the hotel as we always have, treating all of our guests just as we would family, and we look forward to beginning the next chapter of the Sea Breeze Inn." - Leeza Amarant